George's U-Cut
Christmas Tree Farm
1076 Starveout Creek Road
Azalea, OR 97410
Open Nov 29th through Dec 24th 2019
Saturdays, Sundays – 9:00 am to 4 pm until Dec 24th
Or by appointment: call 541-476-7999
Choose & cut your own Douglas Fir and Grand Fir Christmas tree in the old tradition at George's U-Cut Tree Farm!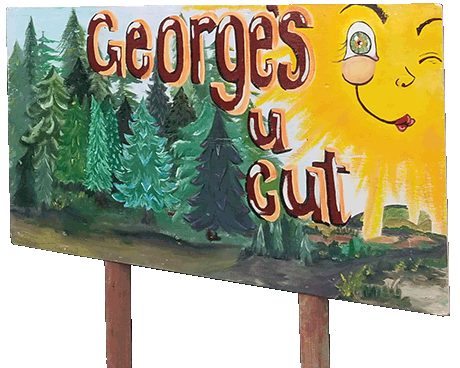 2019 Tree Prices
Noble/Turkish Fir: $10 per foot
Grand/Douglas Fir: $8 per foot
Notes: Trees are measured to the sheared tip.
We have a limited number of saws available so it would be best to bring your own saw.
Days & Hours of Operation
Saturdays, Sundays – 9:00 am to 4 pm until Dec 24th
Or by appointment: call 541-476-7999
George's U-Cut Christmas Tree Farm
1076 Starveout Creek Road
Azalea, OR 97410
Directions:
At I-5, Exit 88, turn towards Azalea/Galesville Reservoir, bear Right (East) onto County Road 36 (Upper Cow Creek Rd). bear Right (East) onto Starveout Creek Road – Arrive 1076 Starveout Creek Road, Azalea, OR 97410.