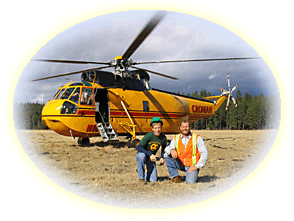 For over 30 years, Jones Forest Products has specialized in the harvesting and delivery of giant, live, majestic White Fir, Grand Fir, or Shasta Fir Christmas trees ranging in size from 20′ to 100′ tall. All trees are hand picked from private land, groomed and catered to perfection prior to harvesting.
No Tree is Too Large!
Specializing in very large trees ranging from 20 ft. to 100 ft., we have supplied trees for state capitol buildings and prestigious hotels and resorts as far east as Florida.
Once We Find Them – We Baby Them!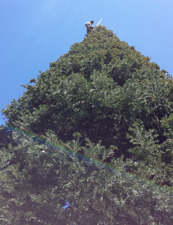 It is an extensive process to locate these large, beautifully shaped trees. Once a tree has been found that meet our standards – green, lush boughs, perfect pyramidal shape from all sides, and free of disease and insects – it is tagged, competitive brush is cut away, and the tree is fertilized.
George's 24 years of experience in high climbing becomes key at this point, trimming away the fly branches and shearing the top, which limits vertical growth and enhances full boughs in the lower portions of the tree.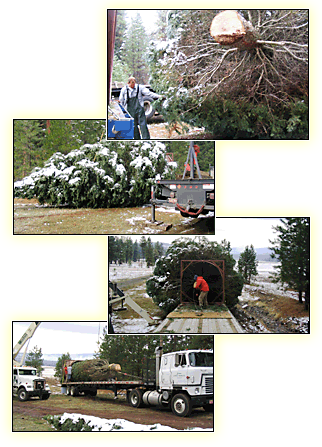 Jones Forest Products Takes Care of Your Tree and the Forest
Our trees are harvested on privately owned land as well as land owned by the timber companies, where harvesting is part of a forest enhancement program. The harvesting of our trees help reduce overcrowding by allowing the existing trees more space, sunlight, and moisture.
Care is taken to preserve the environment when harvesting your tree. Replanting occurs at an average of ten trees for every one harvested.
We climb the tree taking every precaution as not to damage it or the surrounding environment. The tree is hooked up and airlifted from the area, then gently bailed to protect the boughs.
Here are short videos of us harvesting a tree via helicopter:
Once bailed, the big, beautiful Christmas trees are hoisted onto a flatbed and transported to holiday events all over the country.
Click on image to see larger.
Harvest time is the best for real tree farmers because it is when years of work are finally rewarded.